LUNCH 11:30am-3pm
DINNER  Open Wednesday-Sunday 2017

DINNER MENU served Wednesday-Sunday 4pm – 9pm
STARTERS
Fried Brussel Sprouts with cider vinaigrette & bacon.  8
Italian Meatballs with marinara sauce & crostinis 8
French Onion Soup   9             Sherry infused Mushroom Soup  10                Shrimp Cocktail     14
Grilled Pear & Arugula Salad , blue cheese, golden raisins, toasted walnuts,white balsamic honey dressing  10
Crispy Apple Salad, Power Greens, cranberries, Gouda Cheese, apple, honey olive oil dressing  10
Roasted Beet & Baby Kale/Spinach Salad  feta cheese,  cranberries, pumpkin seeds,  balsamic honey dressing  10

ENTREES
Superior Angus Beef Filet Mignon   36
baked potato,  red wine demi,  grilled asparagus
New York Strip Steak  33
wild mushroom risotto, classic demi,  wilted spinach
Rack of Lamb   33
garlic mash potatoes, shallot demi,  baby carrots & spring peas
Crispy Skin Norwegian Salmon   26
roasted cauliflower, arugula, brown butter soy ginger glaze
Crabcake Duo  32
jasmine rice,  sliced cucumbers, cherry tomato, lemon aioli
Grilled Shrimp Pasta Bowl  25
penne pasta,  red peppers, green peppers, sundried tomato, olive oil
Grilled & Pressed Organic Free Range Chicken  25
potato mash, zucchini & cherry tomato medley, green sauce
Portobello Mushroom Ravioli 24
spinach, cherry tomato in creamy sauce

 HAPPY HOUR

WEDNESDAY – FRIDAY 4pm to 7pm
HOUSE WINES $5     DRAFT BEERS $5   APPETIZERS $5  ANGUS BURGER
BBQ CHICKEN  GRILLED CHEESE SANDWICH  GRILLED PORTABELLA MUSHROOM WITH WILTED SPINACH
CRISPY MAC N CHEESE
For reservations to dine.  Call 215.860.8313   
——————————————————————————————————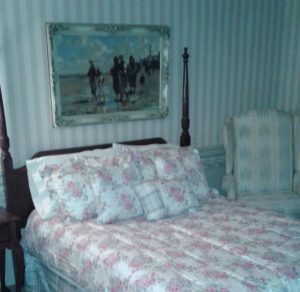 15 room inn that was originally built in 1763. It has maintained its ambiance that sets one back in time to the Victorian era.  The main dining areas are encircled with a glass enclosed porch that is a very desirable & romantic seating as it wraps around and overlooks historic Newtown and the Brick garden.  Here diners can sit and enjoy the outdoor view.  Very charming.
The Brick's dinner menu is expansive with seasonal items such as sherry infused wild mushroom soup, fall salad with heirloom apple & goat cheese, roasted beet with organic baby kale salad, amazing crab cakes, really good scallops, crispy salmon, best filet mignon, hearty NY strip steak.
Recently renovated with a trendy entrance area, The Brick has many features from the seventeen hundreds still intact, the first-floor staircase has a magnificent appearance that has mesmerized thousands of locals & visitors alike since the 18th century.
We want to share that we hosted more than 500 parties in 2015/2016 and would love to host yours. Call our event coordinator, 215.860.8313
 Patricia  will help plan your party taking all your expectations into account and making it into a
"unforgettable" experience for you.